So the Conservatives have found their Compassion. Last week, Secretary of State for Work and Pensions, Damian Green
announced
that retesting people with lifelong conditions and progressive diseases like Parkinson's every six months to see if they've recovered is pointless. Under new Employment and Support Allowance (ESA) rules, reassessments for those with certain incurable conditions will be stopped.
So does this mean the legendary cruelty of the Work Capability Assessment, the test to decide who's fit for work, will become a thing of the past?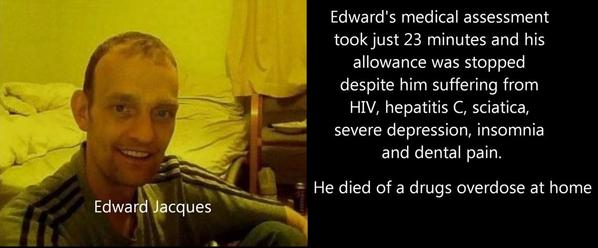 Image courtesy of @RednorthUK
With this latest policy nod to fairness and compassion, the Tories appear to want us to move along please, to bury all mention of the WCA and avert our eyes from the massive policy failure of the broader Employment Support Allowance (ESA) in getting more disabled people into work. ESA will become merged into Universal Credit and lost in its devilish complexity. And a shiny new Work and Health Programme is awaited for people judged unfit for work. Very little is known about it. The Green Paper which will announce the policy has been delayed for months.
What seems certain is that the brutal and nonsensical criteria of the WCA will remain in place, as will the punitive rules and regulations governing the receipt of sickness benefit. Despite new names, there seems to be no plan to dismantle the architecture of ESA, with its questionable legality and its callous assault on disabled people's rights.
Work Capability Assessment
The awaited Green Paper on work and health will not overhaul the Work Capability Assessment or challenge the ugly parody of a "biopsychosocial"(BPS) model on which it is based. The BPS model of disability used in the WCA does not address the structural barriers in the labour market that lock disabled people out of employment. Nor is it grounded in medical science but on the ideological premise that most people claiming sickness benefits are malingering.
Its veneer of scientific credibility
,
long exposed by campaigners like Mo Stewart
, has now been
busted by academics
as the antics of a discredited US insurance company to avoid paying out on disability claims.
The WCA notoriously assesses spurious tasks like picking up a pound coin or putting a handkerchief in a top pocket as a proxy for fitness for work
The WCA is based on neither a social model, nor a medical model, but a Medieval model of disability which blames victims for their misfortune.
Conditionality
The Green Paper is unlikely to alter the harshness of the conditions that some disabled people have to meet in order to receive benefits. These are often akin to mountaineering without a safefThis is called conditionality.
Research in 2014
showed that three in five people in the ESA Work Related Activity Group (WRAG) were forced to do work preparation activities in return for benefits that were incompatible with their health condition or impairment, and yet no adjustments were made by their job coach to enable them to comply. This constitutes potential discrimination by government officials and their private contractors against the very citizens they're supposed to be "supporting".
Sanctions
The Green Paper is unlikely to change the fact that disabled people can be stripped of two thirds of their income under ESA by a
"secret penal system"
which judges them guilty until they prove themselves innocent.
This is the benefit sanctions regime, a punishment system for those who fall of the cliff-edge of conditionality. More than 4 in 5 survey respondents were terrified of being sanctioned because their health or impairment prevented them from doing compulsory tasks, which probably explains why
their health, their confidence and their aspirations all plummeted
as a result of being in the WRAG.
25% of ESA sanctions
were successfully challenged and overturned last year. But how many more were prevented from challenging a sanction by lack of legal advice and how many experienced destitution while they waited for a sanction to be overturned?
Destitution
Perhaps worst of all, the Green Paper won't reverse the shocking £30 pounds a week cut to the livelihood of disabled people judged unfit for work but placed in the WRAG. From next April disabled people faced with long term unemployment due to the severity of their health condition or impairment will be forced to live on around £73 a week and probably have to choose between eating or heating. This is the same low rate of benefit as JSA, designed to tide non-disabled people over for short periods of unemployment until their next job. This policy legacy of George Osborne aims to motivate ill and disabled people to recover. It is a strident breach of disabled people's right to an adequate standard of living under the UN's Convention on Economic, Social and Cultural Rights and a breach of government's duty to ensure the improvement, not regression of the living conditions of its disadvantaged citizens.
In total ESA and the WCA have been responsible for turning back the clock on the disability rights agenda. ESA is a policy that casts disabled people as non-citizens with no right to equality, dignity or freedom, who must be coerced and corrected for their own good.
So we will not accept crumbs of compassion and move along. We must all keep up the fight against a benefit system for ill and disabled people that is abusive and rotten to the core.